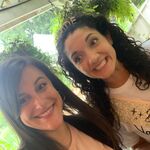 Sarah White - Matron of Honor
Oh Bidz...Sarah and I met Freshman year at E-Town on the tennis team & needless to say it was not friendship at first sight, mainly on Sarah's part. Despite our beginning, we eventually realized that we were destined to be best friends. You can usually find us drinking wine, discussing the latest reality TV drama, & eating goldfish or McDonald's fries. Sarah, like myself, is an only child, & has become the sister I have never had. I wouldn't have gotten through all of the bad times and more importantly, the fun times without her. I couldn't imagine getting married without her right by my side as the best MOH. Look for her on the dance floor at the wedding, she can't contain her moves after a wine spritzer or two.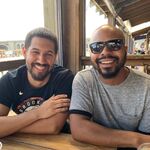 Kenny Miller - Best Man
Kenny, or Chip as we call him, moved in with my family & I when we were fifteen. We were friends from playing football together our freshman year of high school, but we didn't really know each other that well prior to him moving in. As we navigated through high school, our friendship & bond grew - we became almost inseparable. Fifteen years later & Kenny is more than just my friend, he is my brother & right hand man. I couldn't get married without him beside me as my best man.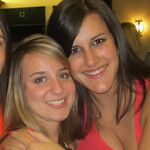 Lindsay Robertson - Maid of Honor
Lindsay & I met freshman year of high school; however, I do not remember this glorious meeting but she frequently reminds me of it, this is what happens when you've known someone over ten years. Linds is one of the smartest people I know & also the one who we all have to watch or she would walk right into traffic. She is the only person I can talk to on a daily basis & the only person who can get me up at 9:00am on a Saturday to walk. She has become family to Jordan & I, & we couldn't get through this next life event without her. I truly am lucky to have her in my life as my best friend & sister. You can find her & Jordan on the dance floor, the two have found that they can only "goofy" dance (as Linds calls it) with each other because no one else can keep up.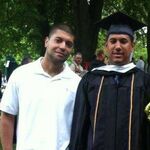 Jamal Jones - Best Man
Jamal is a man of very few words & if you're lucky, you may get a couple out of him at the wedding. Like any little brother, I spent most of my childhood annoying him & trying to hang out with him & his friends. We weren't always the closest growing up even though we shared a bedroom together our whole lives. As we have gotten older into college & beyond, our relationship has gotten stronger, mostly due to partying in State College. Even though he loves LeBron a little too much, I am glad to have him by my side during this next step in life as my Best Man.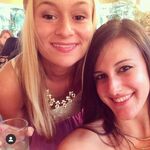 Katie Mortara - Bridesmaid
Katie & I met at good old Elizabethtown College in the library where we bonded over Long Champ purses & she offered to spray tan my ankle (I wore a brace from tennis & had a horrible tan line). The start of a true friendship. We were destined to be in each other's lives & there is no one that I would rather FaceTime daily during our shared fun-employment days. I can always count on Katie to talk me off the ledge during my over-analyzing or spend all day in bed with snacks, Bravo & lots of gossiping. Katie is one of the most genuine people I have ever met, & I am lucky to call her my best friend. Don't be alarmed when you hear her refer to me as "Alana" on the wedding day - it's my 2nd name to my college friends, she'll tell you it's my only.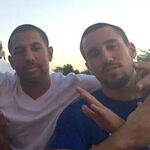 Ren Hoilman - Groomsman
I first met Ren in Kindergarten & he has been my best friend ever since. We were in the same class in first grade & we were so disruptive that the teacher recommended we should never be put together again; we spent the rest of grade school without being in a single class together. Ren has been there from the beginning, through every life milestone & I couldn't imagine not having him with me through this next one.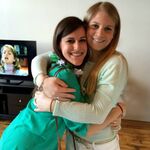 Courtney Crespo - Bridesmaid
Courtney & I also met at St. Paul's our freshman year, apparently in science class (my memory is terrible but we've been friends a long time). Court & I bonded over our shared hatred of the gym/hiking, our love all of things cheese, the Lima Bean Festival & sleeping in way too late. She is the one person you can call day or night that would be there for you in a heartbeat but make sure not to call at 8:00am because she will not be awake. Court is also my most loyal friend, if you ever need someone to have your back in any situation, Courtney will be there guns blazing. I am lucky to call Court one of my best friends & have her by my side on the big day. If you dare, take Court to a karaoke bar & watch the magic happen!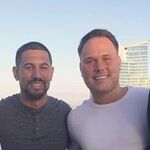 Kyle Kush - Groomsman
Kyle & I met playing pee-wee football together when we were seven. Kyle typically played up a year due to hitting puberty at like nine but even though we weren't always on the same team or even in the same school most of the time, we always seemed to hang out growing up. That friendship has stood through grade school, college & him moving out to the West Coast. I now use him to visit California every year. I am excited to get him back on the East Coast, even if it's just for a weekend, to share this special occasion with me.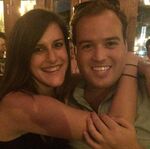 Matt Flora - Officiant
Oh Whitechedda, where do I begin? When Jordan & I were talking about getting married & who we wanted to marry us, we immediately thought of Matt. I've known Matt since junior year of high school when MOH, Lindsay, yelled "I don't like you" & Matt responded "I like you Alena", resulting in an instant friendship. Matt & I bonded over our love of white cheddar Cheez-It's, martinis, & home renovations. We are lucky enough not only to have him as our Officiant but also as our neighbor! Jordan & I thought he would perfect for the job as Officiant due to his charismatic & carefree personality, & his love to talk, if you know Matt, you know what I'm talking about. You don't need to look for him at the wedding because he will be front & center but please, make sure the man has a martini in his hands at all times afterwords because in his words, he will be "parched".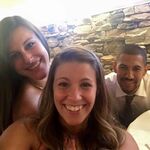 Sammy Blewitt - Ring Bearer
The three of us joke that Sammy is our child (don't ask us how that started) but we knew she would be the best person to be our ring bearer/bearess, still working on the title. Jordan & Sammy were friends first at Etown & after her and I met, we have been a family since. Sammy is one of the funniest people you will ever meet, also she is probably one of the feistiest. She is always there for her friends no matter what & you can always count on her when you need a good rant sesh. We thought she would be perfect as our ring bearer, not just because she's only 5'2" but because she is someone who we can count on & has always been part of our relationship. We could not imagine our lives or our wedding without her in it & we are both lucky to call her family. Just don't tell her if you hate the Eagles, she is a very passionate fan.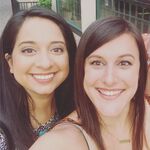 Sally Plunkett - Flower Woman
Oh KJ, Sally & I met working at the same architecture firm. Her & I became friends after she called me up to go apartment hunting with her. Fun fact about our friendship, I was upset about quitting because I wouldn't see her or Kendall everyday & Sally's response was "well people grow apart". Well, I guess we didn't grow too far apart because here we are over two years later & she's still one of my best friends. Definitely don't look to Sally if you want sympathy, you won't get it, but we love this about her & her tell it like it is attitude. We have had so many good times together, consisting mainly of brunches that turn into dinners. She is the only person I know who will surprise me by hiding in a bush with wine during quarantine. Like Kendall, Jordan & I thought she would be perfect for this role. We are lucky to have her in our lives. Sally is also a beer connoisseur so if you're having trouble choosing, just ask her!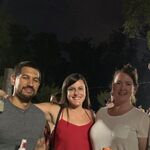 Kendall Schrader - Flower Woman
Kendall & I met also met at that same architecture firm, man that place was really good for making lifelong friends. We actually sat right next to each other but didn't speak to each other for months until we went to a crab feast & we've been best friends ever since. Kendall & I went to out to lunch every Friday & made it our mission to know the bartender's at Wiley Gunters. If you're ever in Baltimore, check them out & ask for Dan, clearly our mission worked. We bonded over one or two beers, okay, sometimes three or four. We could always count on each other to be at that lunch every Friday at noon & those are some of my favorite memories from working there. Kendall along with our other "flower" girl Sally, are two of the most fun people to go out with. Find them after the ceremony if you want someone to do tequila shots with!